Mission:
To make Chautauqua County a place where everyone belongs and has opportunities to thrive, especially those who have been historically marginalized.
Coalition Description:
The Chautauqua County I.D.E.A. Coalition is designed to address, prioritize, and give voice to concerns of those individuals that have been historically marginalized and directly impacted by such things as racism and social injustice in our community. It serves as a bridge between impacted populations and the various organizations that provide services within Chautauqua County. It is also committed to both anti-racist and broad social justice work.
Goals:
Engage historically marginalized populations and identify barriers and concerns related to belonging and thriving.
Prioritize issues/themes that emerge from those direct conversations.
Create space for collaboration and collective work across organizations and those directly impacted to help address identified barriers and concerns.
Strategic Outcomes:
Community organizations and agencies equipped to better serve all residents.

Community members engaged to ensure accountability.

Community-based initiatives designed and implemented to sustain desired outcomes.

Businesses and Corporations engaged to contribute to positive social impact.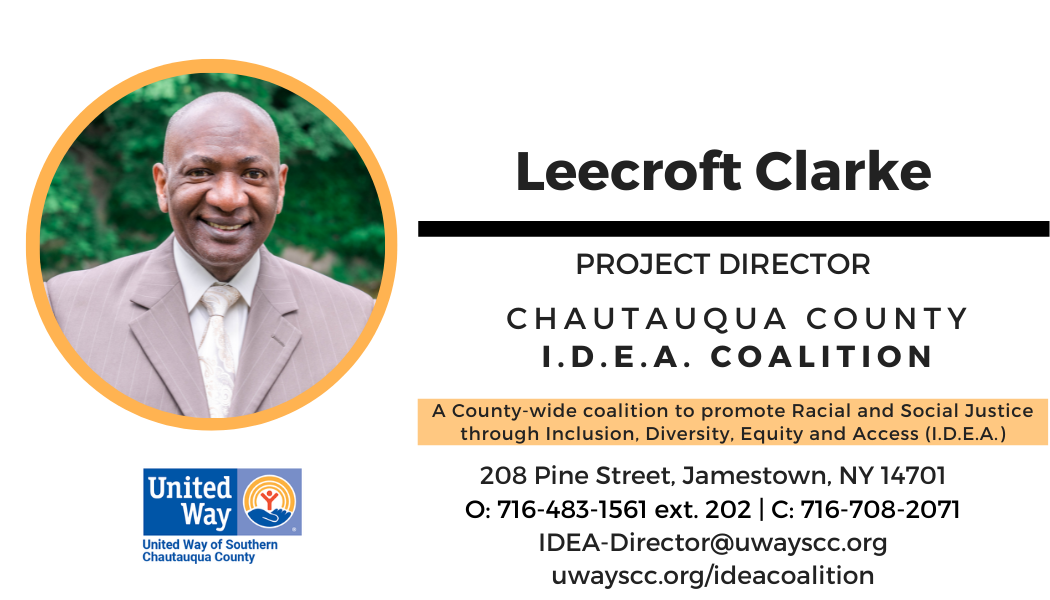 Originally from Jamaica, Leecroft Clarke moved to Jamestown 22 years ago to work for SKF as a Business Development Manager; he also worked for TitanX Engine Cooling for almost ten years. In addition, he worked in various engineering and project lead positions for The Torrington Company (located in Connecticut) for more than 12 years. Clarke has a Bachelor of Engineering, a Master of Business Administration, and a Doctor of Ministry degree. He is currently the lead pastor of Healing Word Ministries Church of God. His extensive community service includes his roles as the chairperson of the Addiction Response Ministry of Chautauqua County, board member for the HOPE Chautauqua Coalition, co-chairperson of the Racial Reconciliation Taskforce of Chautauqua County and a member of the ESPRI Taskforce. Organizations interested in becoming a member can contact I.D.E.A. Director Leecroft Clarke at IDEA-Director@uwayscc.org.
I.D.E.A. Community Engagement Liaisons
Patricia Graves – South County
Vidalys Holmes – South County
Sandra Lewis – North County
Shiloh Rivera Martinez – North County