The United Way of Southern Chautauqua County Impact Awards, tied to the annual Campaign celebration, go to individuals nominated by our community partners who truly embody what it means to be impacted by a United Way program, and who make their own impact in their community. Each award recipient receives a commemorative award, $100 to give to the community organization of their choice, and the opportunity to serve as a United Way allocations volunteer for the year.
Image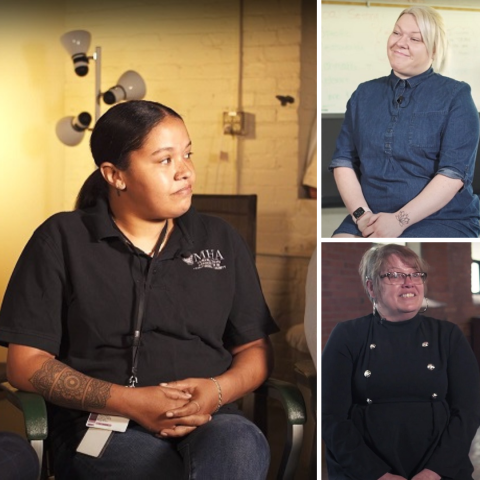 Jessica Crooks, Mental Health Association in Chautauqua County
Jessica started working at the Mental Health Association in October of 2020 as a Certified Peer Specialist and Strong Starts Navigator. She completed her Certified Recovery Peer Advocate training to become a CRPA-P which is a Certified Recovery Peer Advocate. In this role, she coaches others in recovery providing ongoing support like finding employment, securing stable housing and often just a person to call as they journey through their own recovery. Her motivation comes from wanting to help others get sober. She knows firsthand how hard it can be and having someone to support you during those tough times really makes a difference. Jessica's sobriety- clean date is August 15, 2018.
Jessica says that her biggest supports are her Mental Health Association family. She explains that are all truly wonderful people, and that she can talk to them about anything. Her mentor is her mother, Debbie. Jessica says that her mother has always had her back and they have a wonderful relationship.
Jessica's Advice to Others:
Never Give Up. After choosing to change my life for the better, great things have happened for me and I know they can for you too!
Paige Grekulak, TEAM
Paige says that TEAM (Teenage Education and Motherhood) was where her life really started. She moved out of her grandmother's house at 16 and TEAM was there every step of the way as she navigated the real world.
Paige is grateful for every TEAM staff member who supported her. Although no one story sticks out to her while she was in the program, she feels that each moment was pivotal, even if she didn't know it at the time, and they each played a role in shaping her into the woman she is today. TEAM gave her the tools necessary to become the mother she is today to her son, Aiden.
Paige says that she and her son have lived a non-traditional life, and he had to grow up right alongside her. She didn't have role-models for how to be a good parent, only examples of what not to do. She is grateful for Aiden's patience with her over the years, and it's why – if she's going to thank anyone – it's him. Paige has been able to achieve some of her dreams, including becoming a homeowner before the age of 24. But her son is truly her greatest achievement.
Paige loves roller derby and says, "I'm probably quite embarrassing to him at times, but my son still thinks the world of me, and I of him. I wouldn't trade our dynamic for anything."
Paige is grateful to TEAM, United Way, her son, and especially her mentor Lorraine Walker.
Paige's Advice to others:
My advice is never give up and if you haven't started, start now. Life flies by in the blink of an eye.
Sarina Lynn Rivera, Community Helping Hands
Sarina has been the Thrift Store Manager at Community Helping Hands for 3 years. She started volunteering there almost 6 years ago, at the recommendation of her therapist, who felt it would be beneficial for her mental health and for getting back on her feet. She started out by sorting donated clothing, and then transitioned into their work experience program, eventually moved to creating displays of clothing and jewelry, working at the register, providing a lot of help with translation with clients and customers, and now manages a team of paid staff, volunteers, and work experience participants of more than 25 people.
Born in Chicago, Sarina's family moved to Puerto Rico when she was seven years old, where she spent most of her life until 2013. She was a small business owner in Puerto Rico, but eventually moved to Chautauqua County when, little-by-little, her family began moving to Fredonia. She has a daughter named Gina who is 14 and very active in the Marching Band, Orchestra, Honor Society and JV Basketball team. In the summer, Gina also volunteers at Community Helping Hands and brings several friends with her.
According to Sarina, Community Helping Hands "is like therapy" and helped her "not to feel alone." She has been open and honest about her journey and struggles with mental health. Community Helping Hands gave her a sense of family, helping her to use her skills in the Business industry.
She considers Shawn Whitmer, current director of CHH, to be a mentor and appreciates the opportunity he has given her to be on staff, use her skills in this new adventure, always trusting her judgment and decisions.
Sarina's Advice to Others:
Never Say Never!
Image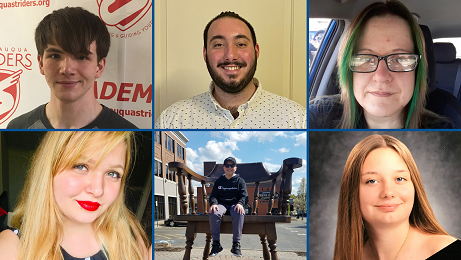 The 2021 Impact award recipients were celebrated virtually due to the COVID-19 pandemic. You can find a playlist with each awardee's video on UWAY SCC's Facebook page.
2021 IMPACT AWARD Recipients and Bios
Matthew Blakey, nominated by Chautauqua Striders
When Matthew Blakey was in high school, he was the type of student that was offering his time to teachers to assist his fellow students with academic support during study hall periods.  Many of Matthew's teachers remember his enthusiasm and desire to help others.  During the hiring process we called Matthew's references, several of whom were teachers, and all spoke to his dedication to his studies, his earnest desire to help others and for his resilience as a young person trying to make it on his own. 
Matthew expressed his respect and affection for our organization [Striders] with his warm account about the effect he feels his Chautauqua Striders' mentor had on him during his high school years.  He will even go as far as to say that the support, encouragement, and time that his mentor took to visit colleges and universities his senior year are the reason that he was accepted and attends Rochester Institute of Technology.  Matthew took a year off from RIT to deal with some medical issues and we were lucky enough to have a tutoring position available during this time.  He has been a tutor for our SAFARI program at Jamestown High School and with students at our On Track after school program since September 2021.
As Matthew's supervisor, it is my sincere pleasure to watch him at work.  He has a gift for taking difficult subject matter (i.e. Algebra), breaking it down and explaining the process to find a solution.  Unfortunately, it has been another tough year for students and the trust that Matthew has built with them has meant that many students have confided in him, their personal struggles.  Each time Matthew gives them a fully attentive ear and then appropriately shares the information with the student's guidance counselor and me to ensure proper measures are taken. His patience and caring for the students are abundantly clear, and now that Matthew has decided to join our mentoring team, he will have come full circle with our Striders organization. He is currently being matched with a tutoring student that he has formed a trusting relationship within program.
We are proud to have a tutor and mentor that can relate to all aspects of what our organization offers and provides.  To quote Matthew, "I wouldn't be the person I am today without the support and guidance that Striders has given me."  For these reasons, we have chosen Matthew Blakey to be Chautauqua Striders nomination for this year's UWSCC Annual Impact Award. 
Chautauqua Co. Organization that Matthew chose to receive $100 donation: (CCYB) Chautauqua County Youth Bureau
Anthony Frangione, nominated by Prevention Works
Anthony graduated from Jamestown Community College with his Human Services Degree. He was an intern with the HOPE Chautauqua Coalition and was offered a Full-Time Prevention Educator position at Prevention Works in May 2021. Tony works in multiple schools providing Evidence-Based Prevention Programs and Intervention Services. These programs provide Teen-Intervene to youth that are referred from Schools, Youth Based Organizations, and other Non-Profits in the Community. His goals for future include continuing to learn and gain experience as well as stay committed, passionate, and driven to serve the community like it has served him. He has designated his $100 donation to Community Helping Hands.
Anthony will also be serving as a volunteer for the United Way of Southern Chautauqua County. As a volunteer, he will help support the decisions of allocations of UW funds to programs throughout the community!
Dawn Jennings, Nominated by the Resource Center
Dawn participated in the first InvestU cohort at the Resource Center in 2021. InvestU is a program that assists people who are living in poverty or unstainable situations to build their resources for a better life and economic stability. InvestU uses the Getting Ahead in a Just Gettin' By World curriculum which provides the concepts and tools for the participants (known as investigators) to use to make the changes in their own lives, which not only impacts them, but also their families and communities.
Dawn said, "The Getting Ahead Program has impacted my life significantly. It has taught me how to make better choices and form better relationships, with the needed tools such as: hidden rules and language. InvestU has given me the ability to get out of poverty. Today I can say I am no longer a survivor, but a warrior." 
Dawn's future goals included developing a non-for-profit action community member agency comprised of Getting Ahead Graduates, continuing to build personal relationships with other graduates, and to assist the community to become a "bridges community."
Dawn designated her $100 donation to Chautauqua County Habitat for Humanity.
Cheyenne Jimerson, nominated by the Jamestown Community Learning Council (JCLC)
Cheyenne participates in the PAT PLUS Program (which stands for Parents as Teachers Plus Linkages Until Success) at JCLC. This program supports parents in the areas of education, transportation, and employment. It also provides access to quality childcare, knowledge about their child's development, all while supporting the planning and execution of participants personal and professional goals.
Cheyenne participated in the PAT PLUS program for two years and during that time she accomplished many amazing goals. She conquered unimaginable barriers and overcame obstacles that challenged her daily, but she never gave up. JCLC and the PAT PLUS program was able to support her as she worked towards getting her learners permit, passing her road test, and finally getting her driver's license. She then opened a bank account and was able to purchase her own car. She is raising her own two children along with her younger brother and is using what she has learned from the Parents as Teachers curriculum to make sure her bother and children are able to reach milestones and thrive in all areas of development. She graduated from college with an associate degree and is now working full time for the post office. Although she didn't have support from family, she has continued to maintain a very trusting relationship with her parent educator, Melissa. Melissa has continued to support and encourage Cheyenne and her confidence in herself has grown. Cheyenne is a bright, shining star that has so much to offer the world and she will no doubt achieve her dreams. JCLC is proud to be with her on her journey.
Cheyenne hopes to open her own business and buy a house. She chose TEAM, (Teenage Education and Motherhood Program) a program that supported her and led to her involvement in PAT PLUS to receive her $100 donation.
Amber Tubbs, nominated by the Winifred Crawford Dibert Boys & Girls Club
Amber has been a Boys & Girls Club member for 7 years and has attended 1,990 days. Over the years, the club has supported her and given her amazing opportunities. She has participated in so many different programs at the Club that have prepared her to be successful in a job in her future. Some of those opportunities include helping with food service, special events and sports leagues. Additionally, she had the opportunity to become a trained lifeguard and work as a lifeguard at the Club. The Club has continuously helped her to grow in many ways to support her ongoing success. Amber's mentor supported her as she faced challenges growing up by helping her to solve problems and learn the skills to be successful in school and in many areas of her life. The Club is a positive place that has truly impacted Amber's life. Her goal for the future is to become a radiology technician. It is no surprise that she has chosen to donate her $100 to WCD Boys & Girls Club (of course!) 
Bryce Stone, nominated by the Chautauqua Blind Association
Bryce has been impacted by the Chautauqua Blind Association since the first recognition of his vision impairment through a vision screening done 9 years ago at a local preschool. Bryce was then connected with CBA where he has worked closely with Debbie Liddell, Orientation & Mobility specialist.  Over the years she has been able to help him with the skills for daily living with Orientation & Mobility. CBA has also supported him in being self-advocate in his life where he is able to move around freely & use a white cane to maintain independence.
His goals for the future include working in the field of visual impairment to help others in the way that he has been helped and supported in his life. Bryce is very active in the community and participates in Blue Star Mothers (a program to help send packages to US troops), he is also Salvation Army Bell Ringer and is a member of the National Honor Society at Persell Middle School. He has chosen to designate his $100 donation to The Chautauqua Blind Association.