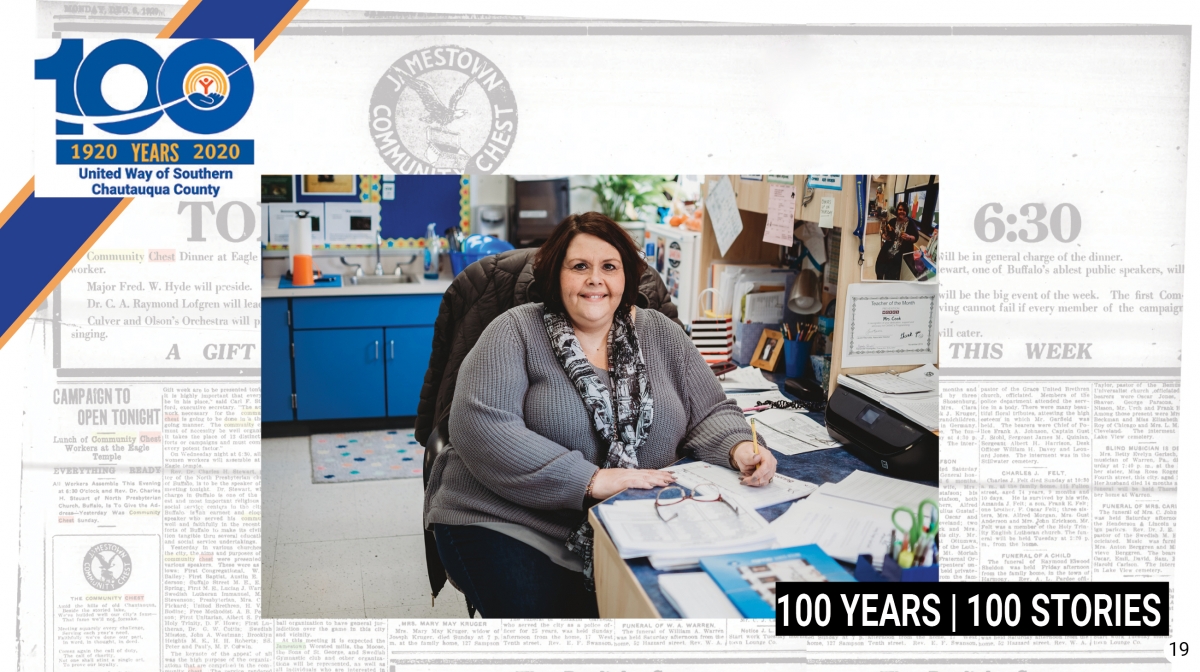 As an employee of Jamestown Public Schools, I have always donated to the United Way.  It was easy through payroll deduction, and I knew the money stayed in the local area.  It wasn't until 2003 that I realized just how impactful the organization really was in my life.  In January of 2003, my first husband died suddenly.  A parent of one of the students in my class recommended that I call Hospice for support.  Within 24 hours, a grief counselor came to my home.  She worked with me individually and with my sons who were 4 and 7 at the time.  I attended grief support for spouses, and my children attended summer day camp for children who had lost a parent.  All of this was at no expense to us.  At that time, the United Way was a funder of Hospice.
After benefitting personally, I took a closer look at all the programs funded by the United Way.  As years passed, I realized that in addition to Hospice, the United Way was impacting me in other ways. My older son was a Cub Scout in the Allegheny Highland Council.   I served as a tutor for the Striders program at Lincoln Elementary School.  I worked summers at the Power Scholars program at the Eastside YMCA.  Programs from CASAC and Jamestown Community Learning Council benefitted the students in the classroom every year.  My step-granddaughter went to the wrap care and summer programs at TRZ.  My parents were able to stay in their home because of the services of Meals on Wheels.  I'm sure there are some that I don't even realize.  So many of the programs impacting both my family and me were, in fact, beneficiaries of United Way support.
I also made the connection that many of the organizations I am affiliated with support programs that are also supported by the United Way.  Each fall, Jamestown Teachers Association raises monies for Child Advocacy Program.  CAP also benefits from the United Way.  The Zonta Club of Jamestown supports the ANEW Center and so does the United Way.  
It seemed logical that when a co-worker retired, I would take her place coordinating the pledge drive at Lincoln School.  I've had the pleasure of watching the number of employees giving and total cash pledged increase over the past ten years.  It's an easy way for me to support the United Way in addition to being a donor.  
The United Way makes a huge difference in our community through the many programs it supports.  Look at the "Community Partners" on the UW website.  I'm certain you benefit from at least one of those organizations, if not more!  I challenge you to find your own way to support the United Way so it can continue to do its work in bettering our community.
UWAYSCC 100 Years, 100 Stories blog submission by Mary Cook, Second Grade Teacher at Lincoln Elementary School, Jamestown, NY.  For more information about Jamestown Public Schools visit
www.jpsny.org
or call 716-483-4412.