We recognize that COVID-19 has made hosting a traditional United Way campaign difficult for many of our corporate partners. Here, you will find a set of tools and resources available to you to aid in conducting a virtual United Way campaign. This includes feature impact story videos, as well as instructional sheets for virtual fundraising activities that can be completed in place of in-person events. Finally, you'll also find digital copies of our campaign materials that can be downloaded and distributed electronically to your employees.
In addition to these tools, United Way staff members remain available to assist your campaign in any way.  Contact Nicole Gustafson, Marketing and Resource Development Manager at 716-483-1561 or ngustafson@uwayscc.org.
 
Campaign Videos 
2020 and 2021 has brought some of our biggest obstacles yet, however we know when we Live United, we can tackle our community's biggest challenges. This is a great video to inspire your employees as you kick-off campaign.
Click here for our 2021 Campaign Video-Help Today Gives Hope Tomorrow
2020 Centennial Video - Help Us Grow A Legacy For the Next 100 Years
 
Featured Impact Stories
These may be distributed to employees in place of large all-employee gatherings. They cover the same content that would normally be provided at in-person campaign gatherings. Videos are in Youtube format below.
A message from Our Executive Director: United Way Overview
An overview and Introduction to United Way of Southern Chautauqua County from Executive Director Amy Rohler.
This brief video unpacks the value this organization brings to our community through its collective impact approach and the 43 programs it funds.
Community Partner - Jamestown Meals on Wheels
Jamestown Area Meals on Wheels, a community partner of United Way of Southern Chautauqua County, and serves more than meals daily to seniors in our community. They not only provide a nutrition meal, but a social and emergency "check in" to their clients - keeping seniors healthy and In their home!
Community Partner - UCAN City Mission
The UCAN City Mission, a community partner of Southern Chautauqua County, is a homeless shelter for men in need of help and hope. Their program has 29 beds and offers a pathway to housing, employment and accountability.
Community Partner - Chautauqua Blind Association
Chautauqua Blind Association, a community partner of United Way of Southern Chautauqua, screened more than 4000 children ages 3-6 county wide. This screening, using the latest technology, is completely free because of United Way. These children enter school ready to learn, able to see the board and poised for academic success!
Community Partner - Chautauqua Striders
Chautauqua Striders is a community partner of United Way of Southern Chautauqua County. This featured 'impact story' shows how critical these services are in providing academic supports to children.
Campaign Materials
FILLABLE PLEDGE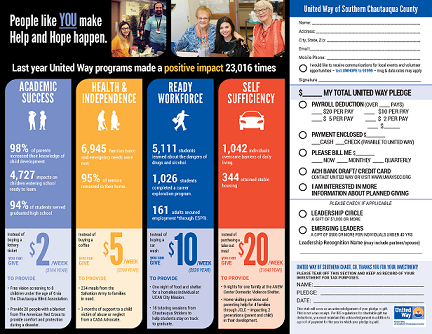 ANNUAL REPORT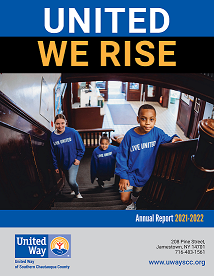 FILLABLE CAMPAIGN REPORT FORM