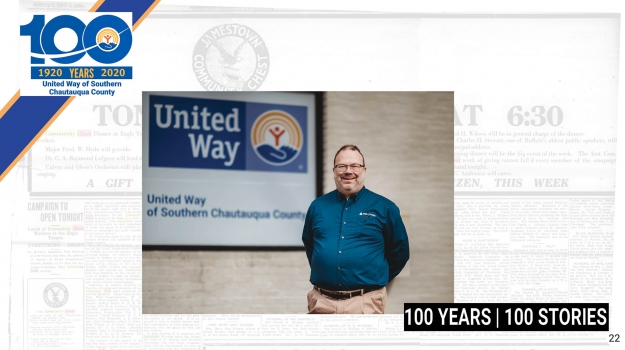 My first experience with the United Way was not in our community.  As a recent college graduate I was working with a large firm in a bigger city.  When the United Way campaign came along one of my bosses presented me with a pledge form and the amount that someone at my level was expected to give.  He further mentioned that the firm had received awards for one hundred percent participation by employees for several years.  The message was delivered.  I didn't have a clue what I was supporting with my donation, but it was clear that I didn't have much of an option.  
Fast forward several years.  I moved back to town and through some professional connections I was introduced to the Executive Director of our local United Way at the time, Mike Moots.  It was obvious that Mike was very passionate about the work of the United Way.  I shared with him my less than positive experience so many years ago.  Over several conversations Mike seemed to make it his mission to explain to me that our United Way wasn't anything like my old boss made it seem to me.   
With my financial background I was most interested in following the money.  The annual campaign I saw looked like a lot of fun.  People and organizations in our community would learn about the programs that helped so many.  Then they would give… voluntarily.  On top of that they would cheer on every milestone towards the goal.  Businesses would come up with creative ways that their employees and even their customers could participate.  At the end of it all a large amount was raised and celebration was held.  This is all that you may know about the United Way.  It was for me.   
So, what happened to the money?  I found out that dozens of people in our community dedicate a number of hours researching organizations and the programs that they run.  They looked at the need for the programs in our community, their effectiveness, and the financial health of the organizations running the programs.  Those organizations are put through a rigorous application and interview process by these volunteers.  Once they are done those same volunteers make a determination of what programs get funded and to what level.  The United Way staff facilitates this entire process, but volunteers are the ones that make the decisions.  Any community member that wants to get involved with the allocation process can.  There is always room.   
The name United Way finally made sense to me.  The entire process is community funded and community driven.  The campaign is run primarily by community members, needs are assessed by community members, and funding decisions are made by community members.  We have a great staff that collects information and facilitates this entire process, but its your friends and family members that are making the decisions.  The entire process is a united effort. 
Since learning all of this I have participated in the allocations process and served on both the board of directors and finance committee.  More importantly I support the United Way financial.  Why?  Because I trust the process.   
There is no way, as an individual, that I can research all of the needs in our community, what programs could meet those needs, and what organizations can be trusted to effectively run those programs.  I do know now; however, that there are people that do know all of that and they can be trusted with your contributions.   
UWAYSCC 100 Years, 100 Stories blog submission by 
Wayne Rishell, Chief Financial Officer at Weber Knapp Company and the Treasurer for the United Way of Southern Chautauqua County Board of Directors. At Weber Knapp Company, they understand the true value of collaborating with their customers. Proudly based in Jamestown, NY, this is what "Made in the USA" manufacturing stands for. For more information visit weberknapp.com.