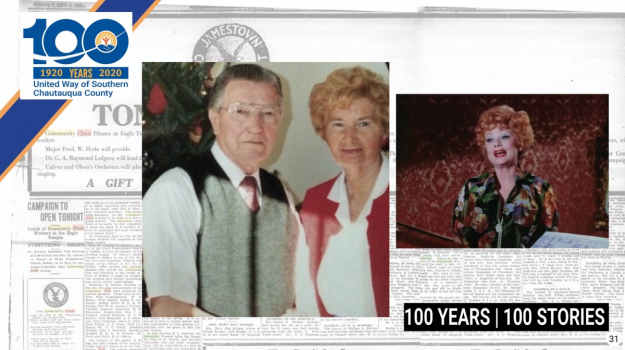 My father, Thomas G. Kennedy, who from 1966-1973 was the Executive Director of the United Way of Southern Chautauqua County. In that period, all seven fund raising campaigns met or exceeded their goals. My father, my mother and their four sons came to Chautauqua County because my father knew that he could make a difference in the community, and in turn, the community would continue his life's work, helping others.
A community where cold weather meant swimming at the YMCA or The Boy's Club, mall visits and Saturday morning bowling leagues; and where warmer weather meant fun on the lake, fireworks at night, friends and neighbors celebrating birthdays and special occasions.  A storybook town where children had sidewalks to ride their bikes, play a game of catch in the backyard or have a Thanksgiving Day game of football. One magical summer in 1971, he watched the Jamestown Falcons and his oldest son be the batboy for the hometown team. Even though the Falcons finished last that summer, the team efforts in the final home game was as strong as the home openers. It was only after my father's sons were college age that a move to a larger town, Richmond Virginia, was in the future. A four-year college nearby would keep our family together longer.  
My father tried to make each campaign unique and resonate with the community.  One year my father had the idea to include the areas home town celebrity hero, Lucille Ball, in the fundraiser efforts. A longshot effort, but one worth taking.
 
Now my father, a person who worked in the steel mills of Pittsburgh to pay for college, who often at times reached deep in his coat pocket for an extra coin to ride the street car and not walk, who would always buy a general admission seat for himself and forgo the box seat. Luxury and excess were not words that would describe him.
Through some contacts my father was able to obtain Lucy's address in California.  He addressed a letter to her asking, not for a donation, but something more powerful, her words. Knowing that several re-writes may occur, my father wrote a script for Lucy to record. In that era the campaign lasted only 31 days, in the month of October, so this idea was risky. 
 
Very soon afterward a package was received at the United Way with a tape recorded by Lucy, reciting the unedited words that my father wrote. There were no Hollywood re-writes or second-takes. Lucy did not want anyone changing the words originated by someone living in her hometown.  The campaign was a huge success.
Knowing that a child learned to swim at the YMCA, or a teenager making Eagle Scout, a family supported during a crisis or an elderly individual receiving assistance to remain in their home, were the things that mattered most to my father.
Twenty years later I was traveling with my parents in Southern California when, of course, a tour of celebrity homes was a must. As we turned a corner street in Beverly Hills, Lucy's home appeared on my father's side of the car. We were surprised that her home was not a huge Beverly Hills mansion, surrounded by high fences and gates. Nothing separating the house from the street or sidewalk where children could ride their bikes or adults could take an evening stroll. My father smiled and I know it was an expression of thanks to Lucy for so many great television moments but most importantly a thanks for the tape and her support for the United Way of Chautauqua. 
UWAYSCC 100 Years, 100 Stories blog submission is by Jim Kennedy, son of Thomas Kennedy.