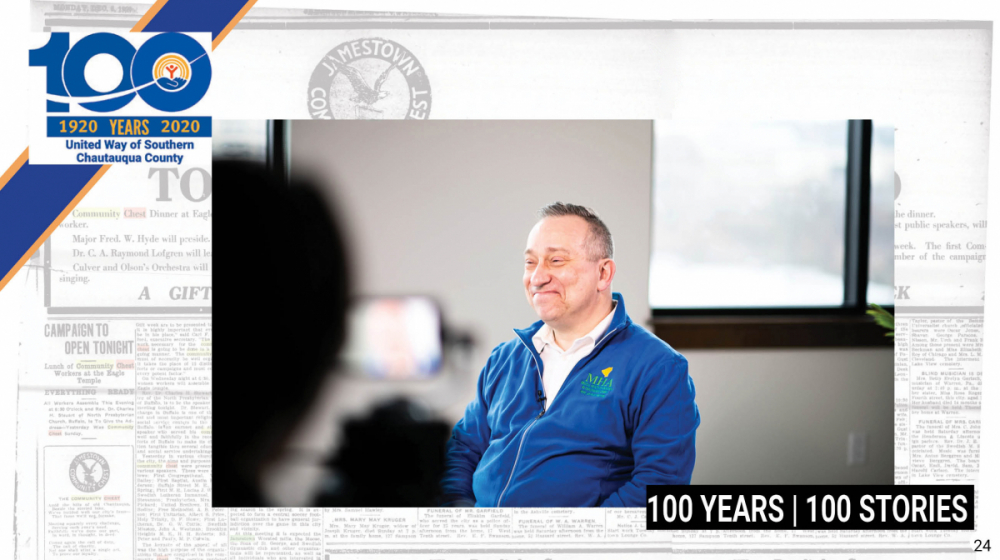 So, when people ask me what the Mental Health Association in Chautauqua County does, I sometimes have a hard time truly explaining what we do.  Its very easy to say we provide over 30 self-help groups every week for people in our community, or that we provide recovery coaching, or that we help people return to work, or that we respond to people who have overdosed and try to help them connect with harm reduction or recovery services.  I can also say that our services are designed to support people experiencing mental illness or a substance use disorder but that we welcome anyone who just needs help and that all our services are free.  And that's all a lot to say but that just doesn't seem satisfying for the question that was asked.
One evening I was sitting in my office at about 6pm.  The MHA was open for a group but there were only people here for the group.  Our large recovery center was empty, and I was enjoying the silence to finish some work. Then I saw the face of a very distressed man standing in my open office door.  He read my name from my door and introduced himself and began to apologize that he was here asking for help.  I assured him I was happy to be helping him and invited him in to talk.  
The man brought in his daughter in law and it was soon clear they were both scared to death and unsure where to turn for help.  They shared with me that they had been to a local clinic looking for help getting onto medication assisted treatment.   She would not be able to be seen for two weeks by the doctor.   This young lady expressed a lot of fear about going on buprenorphine (suboxone).  She was afraid it might not work or make her sick or even mean that she was addicted to something else.  
I invited them to sit down and talk in my office.  We discussed her drug use and where she was at.  She shared with me that she was an IV user and was using just fentanyl.  A very dangerous drug to use with an extremely high chance of overdose.  She was soon in tears telling me about how much she wanted to not use.  At the same time, she was feeling such anxiety to be at the MHA and seek help.  She also told me that once she was connected to treatment and safe her husband who was also using was going to answer a warrant he had, face his legal challenges and then get connected to treatment.  All the sudden I realized there was a lot riding on us getting this encounter right.
I shared my story of recovery and how with the help of this very agency, the MHA I was able to find a sober path.  I shared how I dealt with crippling anxiety I felt once I put the drugs down but was able to overcome.  We talked about harm reduction and how I could give them NARCAN so she would then have a safety plan if she was still using.  I explained what is was like to take buprenorphine and how with the support of a peer and a doctor the process was very manageable and increased her chances of being successful.  We talked about stigma and how that causes people to think buprenorphine is another addiction when even all the science says that's not true.  I shared about how wonderful recovery has been for me. 
Well the next day the MHA was able to get the young lady in to see a doctor and by that night she had the medication she needed to support her journey of recovery.  She was connected with a Recovery coach to advocate for her and help her figure out how to live a sober life.  The family had NARCAN in their house that helped keep everyone in their house have a safe mind and plan.  I connected the parents to our family support group so they could begin to heal and know how to support a person in recovery. 
So you might now understand there is a lot we do at the MHA.  Most importantly we provide hope and connection to community.  Without hope, recovery does not stand a chance to grow.  Connecting people at first to a recovery community and then the larger community strengthens this corner of Chautauqua County we all call home.  The work of the MHA is only possible with community support and the support of an agency called The United Way of Southern Chautauqua County.  We will continue to meet people wherever they are in their path of recovery, continue to find ways to help the community to reduce stigma, and to support those struggling. It is what helped us survive, and we will carry that hope on as long as we can.
UWAYSCC 100 Years, 100 Stories blog submission by Steve Cobb, Executive Director of the Mental Health Association (MHA). For more information about their program visit
www.mhachautauqua.org
.