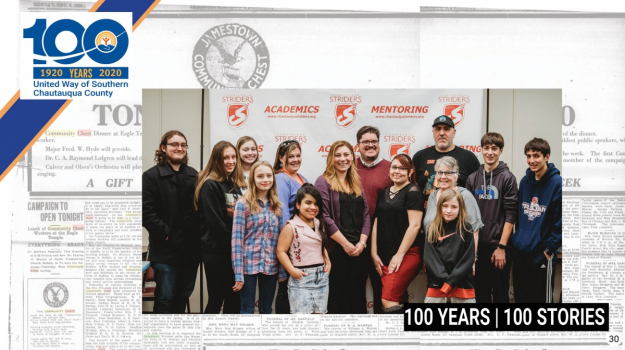 Chautauqua Striders is so thankful for the financial support we receive from United Way of Southern Chautauqua County, that allows us to implement our Mentoring and Life Skills Education Programs. We often hear from students and their families how much their Mentors and Life Skills Educators mean to them and make a difference in their lives. 
There was a freshman girl who was emotionally distraught and very timid.  She would come in and sit down and just doodle quietly in her notebook and avoid interaction.  After a short amount of time she started to open up to those around her a little more.  She started interacting with her classmates and having full conversations with her mentor.  By the end of the year, there was a clear change within her.  The way she carried herself was different; she had become a lot more confident and a self-advocate.   She also branched out and formed strong relationships with other Striders staff, and knows that she can always come to Striders and talk to us about anything going on in her life.  
Her mom recently told the Mentoring Coordinator, "If it wasn't for Striders, my daughter wouldn't be in school. The mentoring and individualized attention my child received through Striders was instrumental in her decision to remain enrolled in school. Striders is her safe place - somewhere she can go when she has difficulty coping with stress. Her self-esteem has improved, as has her belief in her ability to succeed in school and life in general."
A Hispanic high school student who was unmotivated and struggling because of bad choices she had made was referred to our Life Skills program. She did not think that education was important, and said that she was going to "live off the system because they just hand out money." Our Bilingual Life Skills Educator worked with for two years to help her change her mindset. She showed her examples of people like her who had furthered their education and became successful, helped connect her to community resources, and encouraged her to set goals. The student began volunteering, widened her circle of friends to include more peers who were positive influences, got a job, and was able to graduate early in January 2019. 
UWAYSCC 100 Years, 100 Stories blog submission by Erika Muecke, Director of Mentoring and Advocacy at Chautauqua Striders. The goal of Chautauqua Striders is to help youth graduate from high school inspired with the knowledge, skill, and confidence required for successful college and career experiences. Through various tutoring, educational mentoring, and track programs, our unique organization meets the individual needs of a wide range of youth. For more about Chautauqua Striders visit
www.chautauquastriders.org
(names of individuals in this story have been kept confidential and may not be the same individuals in the photo provided)