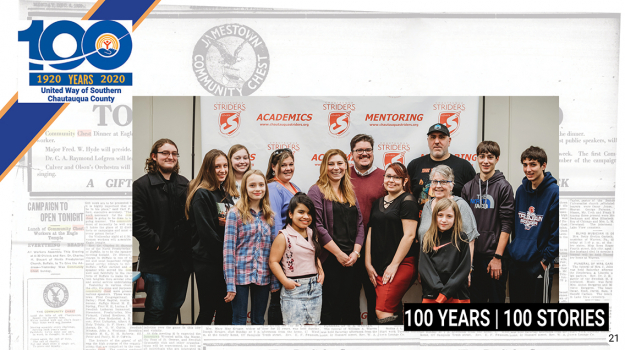 At Chautauqua Striders, we hear numerous success stories from the students who enroll in our Main Site Tutoring program. Students sign up for assistance in maintaining or improving their academic performance, but often face challenges outside of just their studies. 
One student attends tutoring at our Main Site two days a week; one day in small group and the other for one-to-one support. Her home life is not short of difficulties. Her mother is dealing with drug addiction, and is not in her life at the moment. She now lives with her grandmother. Striders tutoring provides her not only with opportunities to flourish academically, but offers her a positive environment to spend time in. Throughout the challenges she faces, she enjoys attending her sessions here. She discusses her day with her tutor as she completes homework and other academic activities. She has forged a trusting relationship with us over the last two years, and will come to us for support and guidance, as well her school work. Her grandmother constantly comments that she appreciates that we are available to help her succeed with her academics. 
Another of our students came to us having failed his first year of Algebra 1. There had been some changes at home. His family had to moved out of Jamestown school district and into Frewsburg very abruptly. He found this move very difficult. Academically, Math was always very challenging for him and the move didn't make things easier. Our staff was always there to support him; offering praise and encouragement as his ability at Math improved. He came to love his new school and made new friends quickly. He ended up passing Algebra 1 class the following year and received a 71 on his Regents exam under the guidance of his tutor. He recently came into visit and told us that Striders helped him and supported him through this rough patch in his life. 
One of our parents reached out and to us offered her gratitude to our program. She wrote: 
"My daughter has attended tutoring since February 2016 and enjoys coming to Striders Main Site Tutoring. She has gained the self-confidence that she needed in the classroom." 
Her daughter had struggled in certain classes, and was not engaging at school. Following time with Striders Main Site Tutoring, teachers have noticed the improvement in her schoolwork. The student's teacher told her mother that he believes this program has helped her to start participating in class now. Her mother finished her message to us by saying, "I am appreciative that there is an organization like this for kids to come to." 
Without the funding support from the United Way of Southern Chautauqua County that, we wouldn't be able to offer programming of this kind to these families. 
UWAYSCC 100 Years, 100 Stories blog submission by Suzette Iacuzzo, Chautauqua Striders Main Site Academic Coordinator. The goal of Chautauqua Striders is to help youth graduate from high school inspired with the knowledge, skill, and confidence required for successful college and career experiences. Through various tutoring, educational mentoring, and track programs, our unique organization meets the individual needs of a wide range of youth. For more about Chautauqua Striders visit
www.chautauquastriders.org
(names of individuals in this story have been kept confidential and may not be the same individuals in the photo provided)