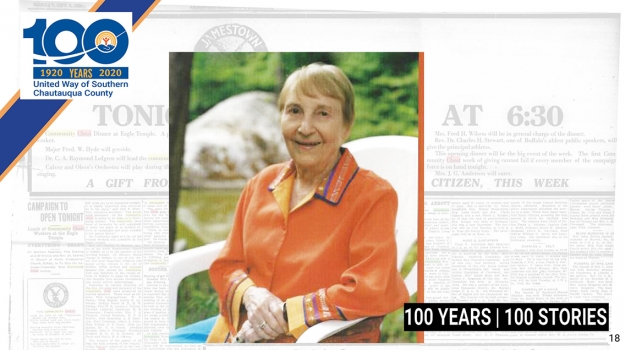 I am legally blind, blind they say; although the people who say that have never looked at the world through my eyes. I am 100 years young, old they say; although the people who say that don't know all the joyful memories I have of a life well lived. I've lived by myself in an apartment since my husband died 20 years ago, they say I should move to a retirement home; they don't understand my need for independence.   
Luckily for me, I found the wonderful folks at the Chautauqua Blind Association almost 40 years ago when I first started to lose my sight. They understood residual sight, they understood keeping active and young, they understood independence. I worked with three different Vision Rehabilitation Therapists during my time with the Chautauqua Blind Association, although I also worked with the Administrative Assistant when I helped organize and plan the Senior Social Group. My Vision Rehabilitation Therapists were able to help me find new ways to continue to manage my home by myself; at 100 I am still doing my own laundry in the basement of my apartment complex, I am still cooking all my meals, paying all my bills and (with the help of a friend who can drive) I am still doing my own shopping and going out to restaurants for dinners. My Therapists brought me adaptive equipment like magnifiers and talking labels, talking watches, talking alarm clocks and liquid level alerts. They also gave me a large magnifying camera that I could use to read prescription bottles, bills and letters. My therapists also taught me ways to assure my safety and independence both in my apartment and out in the community. They convinced me it was OK to walk with a white cane for both my safety and so people around me knew of my vision loss.  Above all this though, they treated me with respect and real caring. I know this program is funded partly by NY State, but I also know that it is funded by United Way of Southern Chautauqua County in our community. I am very thankful for the Chautauqua Blind Association and the many community members who support the United Way of Southern Chautauqua County. 
UWAYSCC 100 Years, 100 Stories blog submission by Lisa Goodell, Executive Director of the Chautauqua Blind Association.  This story was shared at Louise's 100th Birthday Celebration.  She would live for a couple more years reaching 102 years young. She was a joy for all who knew her and one of many amazing individuals who have benefitted from the support of our local Chautauqua Blind Association. For more information about the Chautauqua Blind Association visit www.chautauquablind.org or call 716-664-6660.