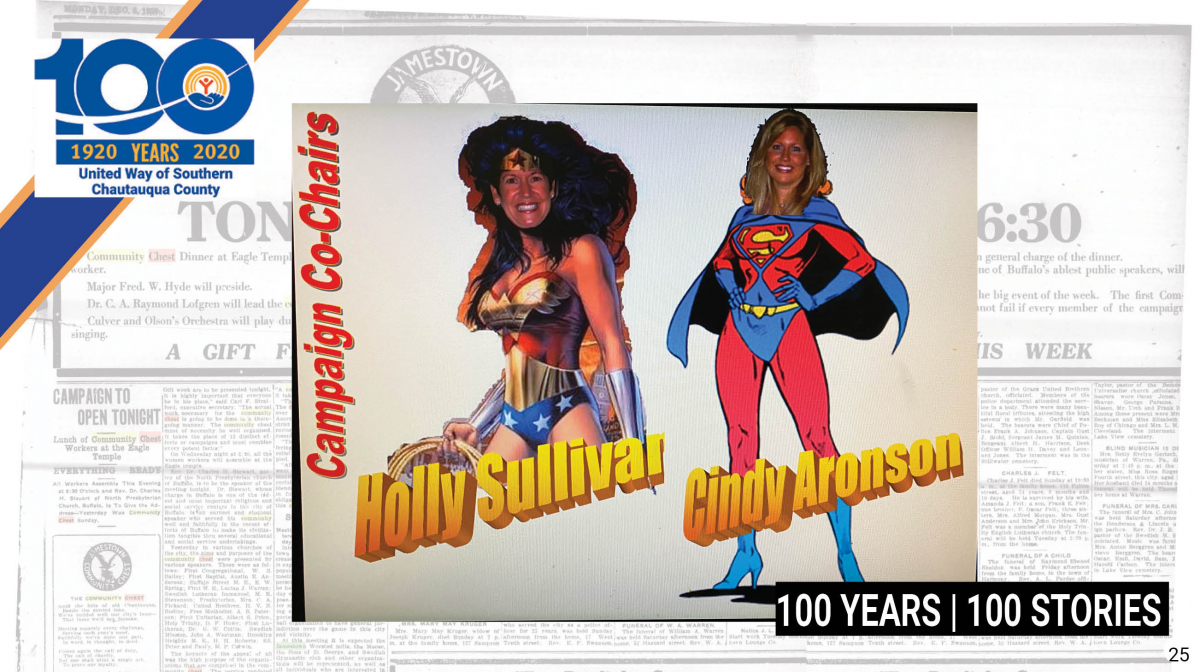 It was late spring 2005 and Holly Sullivan and Cindy Aronson were asked to co-chair the upcoming annual campaign — the first time two women were asked to do so.
They were intent on proving they were the right women for the job. 
They set out to not only achieve the goal but have a whole lot of fun doing so. In early August, the Pace Setter Campaign would kick off. Holly tapped into her network and persuaded Danny Wegman to helicopter into the Jamestown Wegman's store and deliver inspiring words that would powerfully ignite the '05 campaign. Did he ever! With such a strong start, surely the campaign was unstoppable. But then, disaster struck.
 In late August, Hurricane Katrina, a massive category 5 hurricane, wreaked havoc on the Gulf of Mexico region, leaving 1,800 dead and $125 billion in damage. The scale of disaster was the costliest on record and it provoked a massive national response. The good people of Chautauqua County dug deep and gave BIG to recovery efforts. And it was the right thing to do. Yet even good people have only so much to contribute.
And campaign donations were down significantly as many donor's gave aid to the Katrina disaster instead. 
It was clear a heroic effort would be needed by the campaign team if there was any hope of achieving goal. Holly and Cindy put their creative brains together preparing to energize their campaign team. Dressed as caped crusaders, they called up each member of the campaign — surprising them with a photo slide show in which they too had been transformed into caped crusaders! If goal was to be made -- and local programs saved -- it would be up to every super hero in the room. What fun was had as, one by one, community leaders were presented as Bat Woman, Captain America, Iron Man and more. But amidst the laughter and cheek to cheek smiles, the message was clear.
Failure is not an option for super heroes. It was time to get back to work and make goal. 
The Wonder Women and Super Men of the 2005 campaign did just that -- inspiring the great people of Southern Chautauqua County to support the Local programs that make such a difference in our community. It was a cape-worthy performance none of us will ever forget.
UWAYSCC 100 Years, 100 Stories blog submission by Cindy Aronson, Owner of Cindy Aronson Work-Life Training, and 1 of 28 2020 Campaign Chairs. For more information about Cindy Aronson Work-Life Training, call 716-969-6016