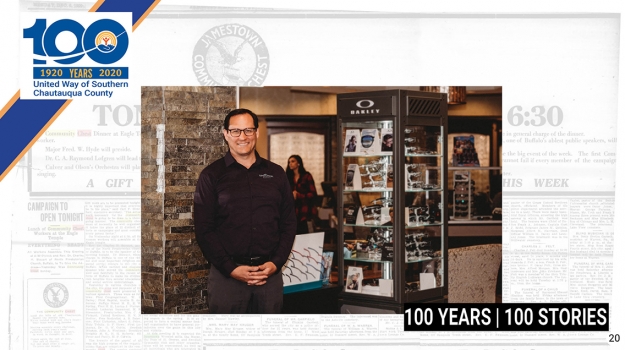 40 years ago, there about, I sat on my Dad's shoulders holding a balloon.  Probably not an uncommon event for most kids.  This day was unique, however, in that there were hundreds of other people holding balloons in a parking lot in Brooklyn Square. 
The event was a balloon rally to kick off the Annual Campaign for the United Way of Southern Chautauqua County.  Balloons were released, phone numbers attached, with the hope that they would be found to have travelled far.  This is how I remember it,
regardless of any indulgence that may accompany a childhood memory.  It is one of those memories that finds its way to the surface as a reminder of the character of our community.  A community that gathers together in support of each other, treating 
neighbors as family.
For 100 years the United Way of Southern Chautauqua County has lead the way believing that collective giving of time, talent, and financial resources can achieve monumental solutions to community needs. 40 years later my kids will see our United Way
through their own young eyes, and my hope is that they too will recall a community standing together, ready to travel far over the next 100 years. 
UWAYSCC 100 Years, 100 Stories blog submission by Dr. Christopher A. Colburn, Optometry Specialist at Spectrum Eye Care, Past President & Past Campaign Chair of UWAYSCC, & current UWAYSCC volunteer.